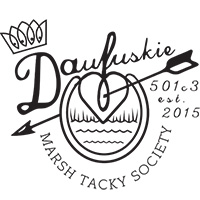 short and sweet post…
Check out this story by Caitlin Turner at the Island Packet about the Daufuskie Marsh Tacky Society!!
Erika Veit brought the State Heritage Horse, the Marsh Tacky, back to Daufuskie Island. Since then she has weathered hurricanes on the island, had barges bring more Marsh Tacky Horses for the Beach Races and provided a unique look into Daufuskies' Island history. The Daufuskie Marsh Tacky Society is growing, expanding to a farm on the mainland of South Carolina in Beaufort County.
The DTMS is hiring interns, students and employees – if its your dream job to work with the Marsh Tacky Horses check out their application page.